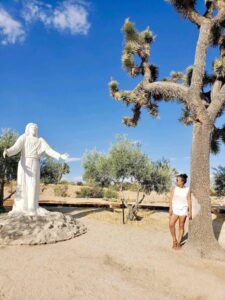 In mid-July, Michael and I took a quick, weekend baecation to Palm Springs, CA. If you're new to my blog, since March of 2018 I've been traveling back and forth from Portland, OR to Riverside, CA weekly for graduate school. I have been wanting to visit Palm Springs for a while, since it is so close to the Inland Empire. I could never seem to find time until recently. I am done with my classroom studies at La SierraUniversity (yay!), and to celebrate my last week there, we headed to Palm Springs (Michael flew in to ONT airport from Seattle).
Palm Springs is about two hours from L.A., and with so many things to do, it's known as Hollywood's playground. Since I am a nature lover, I was most interested in the outdoor attractions (which is the case wherever I go)!
For our first stop (on our way to the hotel), we visited Desert Christ Park, and the name says it all. The description on the website is: "It

overlooks the high desert town of Yucca Valley in southern California. Here you'll find more than forty snow-white sculptures and images portraying scenes of Christ's life and teachings."

It is a park filled with statues of Christ, which were hand-sculpted by a man named Frank Antone Martin, over a ten year span of time. Each scene represents a popular Bible story. I've never seen anything like this!
As a Christian and a nature lover, it was the perfect combination for a beautiful, spiritual experience. I am not particularly equipped to judge the quality of the sculpture, but I think the vastness of the project, the artist's intentions, and the unique history of the park are remarkable enough. And, I did indeed find most of the sculptures to be quite aesthetically pleasing!
My favorite installation was of Jesus speaking to his disciples. They are all facing him except for one. Do you know which disciple had his back turned to Christ? After viewing this biblical scene, I noticed that in each installation, the artist was careful to indicate that this disciple had fallen into the dark side, and would eventually betray Christ.
If you love Jesus and nature and are headed to the Palm Springs area, I recommend you stop at Desert Christ Park in Yucca Valley!
The disciple who was not facing Jesus at the Sermon on the Mount.