About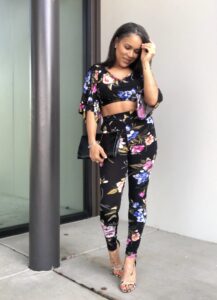 I started my blog to share my lifestyle and passions in the hopes of providing motivation and inspiration to women and men. I love nature, fitness, and fashion and my family. For the past couple of years, I have been working on my MA in English at La Sierra University in Riverside, CA. I flew back and forth weekly for a year and a half! While there, I taught College Writing for the 2018-2019 school year. Needless to say, I love literature and teaching too!
I recently accepted an offer from the English Department at the University of Oregon, and will begin working on my PhD in September of 2020. To learn more about my academic background you can click the following link to view My CV
Up until May of 2020, I have been a Social Media Manager for Honey Baby Naturals (which is owned by my best childhood friend, Aisha) for two years, and have also worked in the same capacity for Twisted Sista by Urban Therapy.
Early in my career, when my twins were little, I was a personal trainer. For many years after that, I was a
professional Sales Executive, first in telecommunications and later in the pharmaceutical and healthcare
industries.
I grew up in Gary, Indiana, right outside of Chicago. My family ties and roots are in Chicago. I moved out West in 2013, and currently live in Vancouver, WA which is right on the border of Portland, Oregon. I am a proud mother of boy/girl twins, who are both in their freshman year of college. I have been in a long-term relationship with a wonderful man (Michael) for about five years.
I did print modeling and commercial acting for about 7 years when I lived in Chicago. I was also a competitive runner and triathlete for many years when I was in my twenties and thirties; I have competed in close to 40 races!
I own an online boutique on the Poshmark App (if you're new to Poshmark, you can sign up using my referral link and save $10 on your first purchase using code TRENDYBOUTIQUE.) I also try to link my outfits in the LiketoKnowit app. This version of my blog is new and still a work in progress. Check back frequently for updates! Thanks for stopping by and please leave me a comment to keep in touch!
Xoxo,
Holly