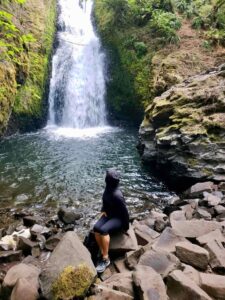 Bridal Veil Falls is a local waterfall that I have been to several times, and it never loses its appeal.  I never get bored with waterfalls.  I find the sound, power, energy and freshness of waterfalls to be totally exhilarating and cleansing.


Outfit Details| Hoodie & Capri Leggings from Trendy Boutique 
Nature Lover Lifestyle
What I love most about living in the Pacific Northwest

is the abundance of nature hikes, trails, forests and waterfalls. There are 255 state parks in Oregon alone, and 154 in neighboring Washington.  I could happily spend years trying to visit them all!
These photos were taken about a year ago, and I was stressing out about not posting regularly. Besides being too busy with grad-school, work, and being a mom, I realized that another reason I was posting less was

because I wasn't as enthusiastic about creating style posts as I was to get out in nature.

 

I wanted to make more effort to blog about my love and passion for the outdoors.
Nurturing my Self-Esteem
So, for this hike, I decided to put on a little makeup and pin my twists up–an attempt at an attractive protective style–in the hopes that I would capture at least a few decent photos.
I remember at the time, once I got home I didn't feel like the photos were not worthy of posting. I'm not getting any younger.  I've given up the battle against my gray hair, I'm heavier than I'd like to be, and fatigue is a regular part of life. Some days it shows more than others.
One of the things I find remarkable about blogging is that I often look back at photos that I was very critical of at the time, and then several months later, I think 

why was I so critical of myself?

 
Luckily, with age comes wisdom, and my goal is always self-love. There was a time when I would have been unable to turn the voices off in my head and focus on the positive.

 

I have my health, my youth (youth is relative!), my spirit, my intelligence, and my beauty (internal beauty being far more important than external, in my opinion).

 

I don't take any of these things for granted.

 

  
Positive Affirmations
Nature brings me closer to God, and it makes me happy.

  Learning to love and accept myself, just as I am, has been one of the greatest gifts I have given myself.  I am always a work in progress, and I'm thankful that I've come this far. I remember when I did not know how to truly love myself. Now, it is an everyday habit.
One of my favorite quotes:

Watch your actions, they become your habits. Watch your habits, they become your character." -Vince Lombardi
When the critical voice in your head begins finding flaws and engaging in negative self-talk, how do you respond?

 

Do you listen and internalize it? Or, do you

gently but firmly replace the words of negativity with positive thoughts

?

 

If you're not doing the latter, I suggest you try it.

 

It works!