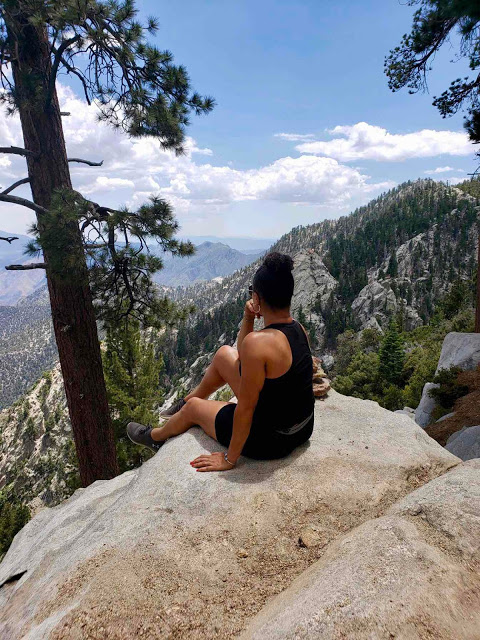 In mid-July, Michael and I spent a weekend in Palm Springs. I've decided to write about the trip in installments because there was too much to comfortably cram into one post. Check out my first post in the series here, about Desert Christ Park.


On our second day, we planned an outing to the Palm Springs Aerial Tramway, which is easily the #1 nature attraction in Palm Springs. It was very affordable (I got a Groupon), and totally worth it! The Palm Springs Tram is the largest tram in the United States.
Fun Fact
"
Since 1963, over 20 million people have traveled the 10-minute, 2.5-mile ride, which begins at the Valley Station (elevation 2,643 feet) and ends at the Mountain Station (elevation 8,516 feet)." -Tramway website

Parking
We paid for parking (I think it was $5) and began the trek up an extremely steep hill to the tram.

There are shuttle buses from the parking lot, but we decided to get some exercise instead of waiting in the hot, desert sun.
The Ride
Once inside, we waited in a long line to get our boarding tickets (even though we pre-paid, you still need to retrieve your ticket on location), but it moved quickly.

They are very organized despite the huge crowds. After another 10 minute wait, we boarded the tram at our designated time.

Hiking
At the end of an exhilarating and beautiful tram ride up the mountain, we exited to find restaurants and hiking trails.

After grabbing a light lunch, we set out for a hike.

Although the hike was rated as easy, Mike and I both thought it was more of an easy to moderate hike.

Parts of it were a little challenging. If you are considering taking a child or elderly person, I would carefully review the trail first (here).
The views from the mountain were incredible.

It wasn't too crowded to get some good shots, which was a bonus! I got a workout, a healthy dose of God's grace (by way of His glorious gift of nature), and some quality time.
I give this attraction five stars!
If you are headed to Palm Springs—and not afraid of heights—the tram is a must do!
XOXO,
Holly