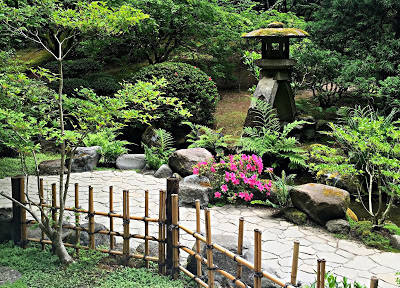 Spring brought about lovely trips to some of Portland's most touristy attractions. My mom flew in from Indiana to visit in early June, and as a fellow nature lover, I couldn't wait to take her to the Japanese Garden. It was the first visit for both of us, and it was amazing. I could've spent all day there. Parking is scarce, but when the weather is pleasant, walking around the grounds is nice. The Japanese Garden is the perfect place to experience the merging of nature and spirituality. It is truly a magical experience.
We went on an overcast day, and the temperature was in the 70's; perfect weather for a garden stroll & picture-taking. If I'd been alone, I'd have liked to spend an entire day there, taking photographs, meditating, and just being inspired by the beauty and serenity of the exquisite surroundings. The garden passes are good all day, and allow for in-and-out entry (click here for hours and admission info).

"Three of the essential elements used to create a Japanese garden are stone, the "bones" of the landscape; water, the life-giving force; and plants, the tapestry of the four seasons. Japanese garden designers feel that good stone composition is one of the most important elements in creating a well-designed garden. Secondary elements include pagodas, stone lanterns, water basins, arbors, and bridges. Japanese gardens are asymmetrical in design and reflect nature in idealized form." — Portland Japanese Garden
"The 5.5 acre Japanese Garden is composed of five distinct garden styles. When we enter a Japanese garden, the desired effect is to realize a sense of peace, harmony, and tranquility and to experience the feeling of being a part of nature. In a deep sense, the Japanese garden is a living reflection of the long history and traditional culture of Japan." — Portland Japanese Garden
*If you are going with someone who is elderly or has difficulty with strenuous activity, be advised that the uphill walk up to the garden could be hard for some.
*Portland is known for it's food carts, and there are a couple of good ones near the parking lot. There is also a seating are and gift shop.
*You will most likely have to walk to a meter machine to pay for your parking. Don't forget your space # & credit-card! 🙂
SHOP MY CLOSET >> Trendy Boutique on Poshmark
Signing off from (right outside of) Portland,