Visiting the DMV: Hilton Dulles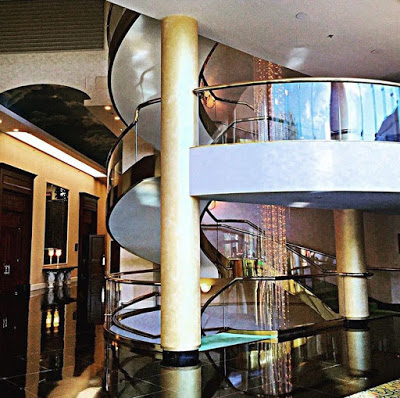 Thanks for joining me as I re-visit my recent trip to Washington D.C. I was fortunate to have the opportunity to attend the most recent DC Fashion Week, and had the privilege of being hosted at one of the best hotels in the area, Hilton Dulles Airport Hotel. One of the joys of blogging is the pleasure of documenting travel. Whether I'm jetting off to Los Angeles, Chicago, or DC, I try to hop on a plane at least once a month.


To travel like a blogger, be sure to pay attention to the details, and enjoy your surroundings to the fullest.
Although every blogger has their niche, most would agree that customer service and quality accommodations are especially important when staying at a hotel. Having the opportunity to liaise with a four-star hotel is a blogger's dream, and I was honored to be affiliated with the Hilton brand. If you're traveling to the DMV (DC, Maryland, Virginia) area, you should consider staying at the Hilton Dulles Airport Hotel.
I spent most of my time in DC for fashion week, despite the many tourist attractions are plentiful in the area including:
-National Air & Space Museum
-Winery at Bull Run
-Pleasant Valley Golf
-Tyson's Corner Center
-Reston Town Center
The best part of my stay at the Hilton Dulles was the incredible and consistent attention to excellent, old-school customer service. From the housekeeping to the restaurant staff, everyone is courteous and charming. The interior decor is upscale and contemporary, and upon checking into my room I discovered a lovely tray of fresh fruit, yogurt & Pellegrino (see photo below). The breakfast spread each morning was incredible, and the service outstanding to match. The business suite includes WiFi and a great space for working or spreading out.
The hotel provides a shuttle bus that goes back and forth to the airport every half hour, and as a result, I was able to take public transportation to downtown DC with ease. This is an affordable option if you have extra time. Otherwise, if renting a car or using Uber or Lyft is your preference, the drive is about 30 minutes without traffic.
Breakfast was on point every morning!
I was so excited to learn that Hilton Dulles produces its own honey, and has a beekeeper and honeybees on the roof of the premisis! They use the honey to make confections, specialty drinks and other treats.
Spiral staircase in the lobby at Hilton Dulles.
Window seat view from the Old Ox Restaurant at breakfast.