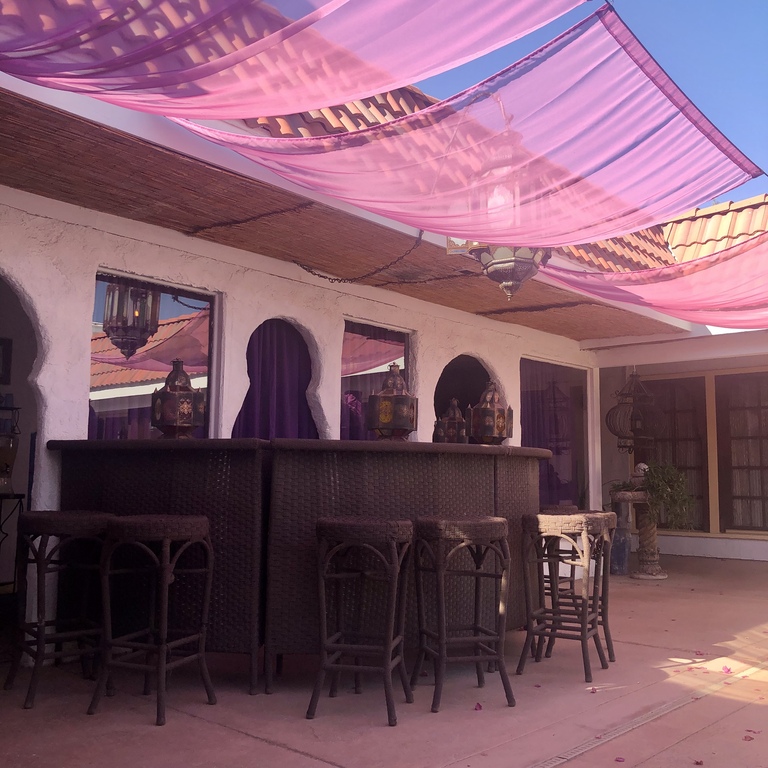 This past July, Michael and I took a romantic Palm Springs weekend trip and stayed at the Morocco Inn and Spa. This hotel is located in Desert Hot Springs, which is just a few miles away from Palm Springs, but a little more affordable. Palm Springs is beautiful and has so much to offer. Check out my first post to learn more about Palm Springs here!
Scroll down to see photos of the hotel, and check out My Instagram Story highlights (click on the Palm Springs highlight) to see more of it on video! For some reason I forgot to take photos of the bedroom, but there is a video of it on my Instagram. There are also videos of the rest of the property.
Note: This post is NOT an ad, collaboration, or sponsored in any way.
View of pool area from our room.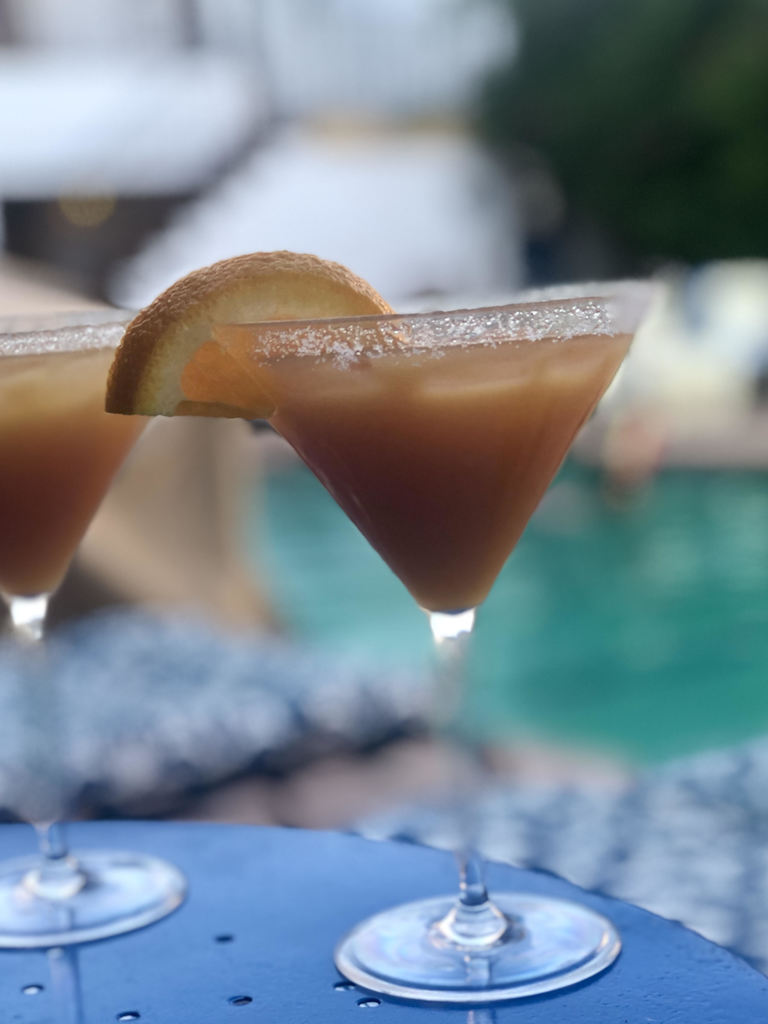 Complimentary signature drinks are served at the pool each evening. I do not drink (I've been a non-drinker since 2015), so they made me a non-alcoholic version which was amazingly delicious!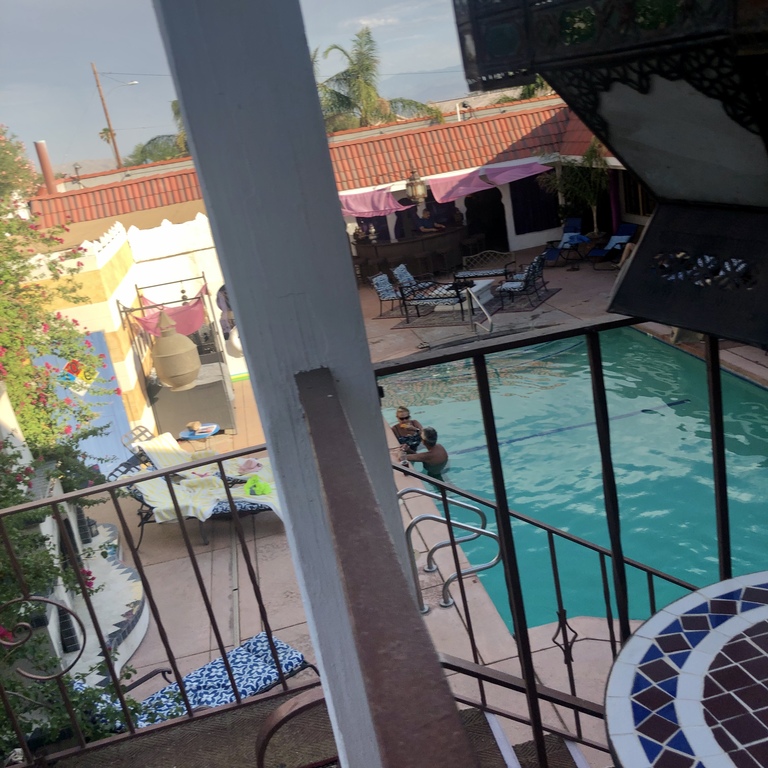 The pool is not big, but intimate and the water is from the desert natural springs, which was awesome.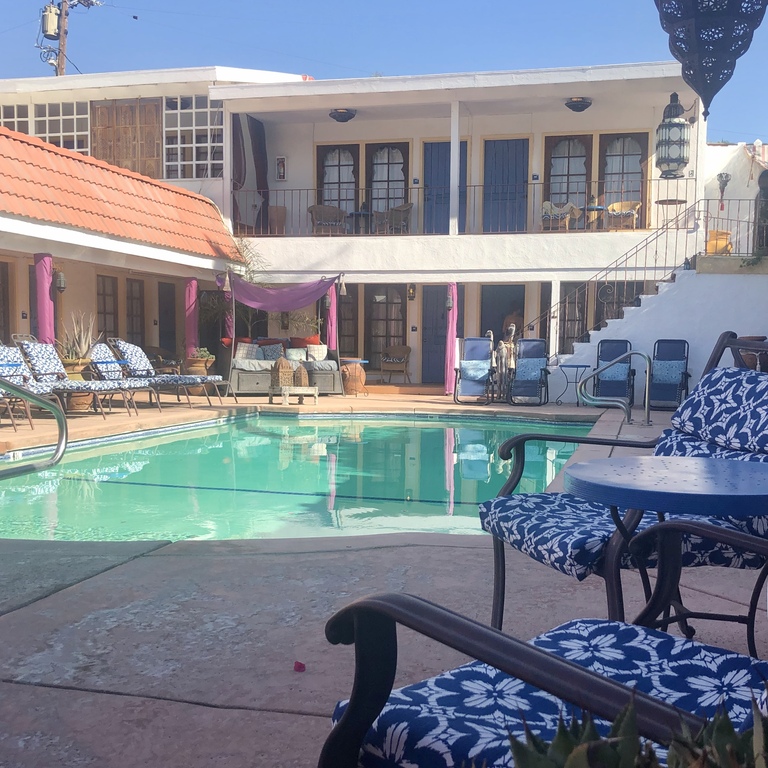 Pool area at El Morocco Inn and Spa in Desert Hot Springs.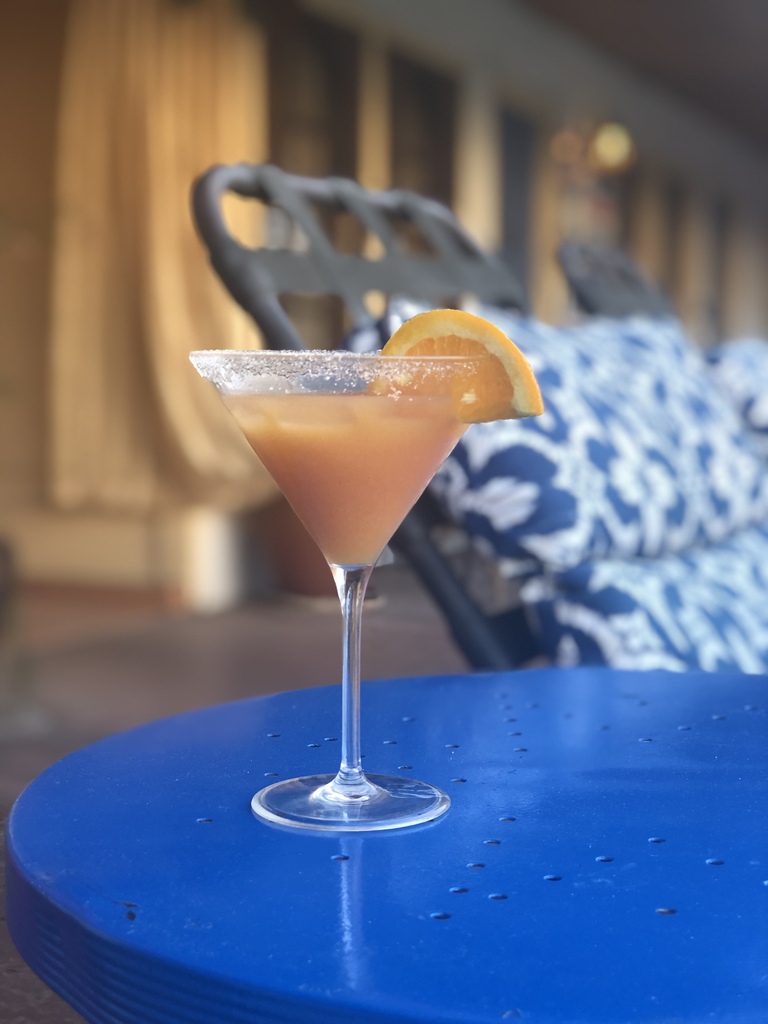 My non-alcoholic drink.  So pretty and yummy!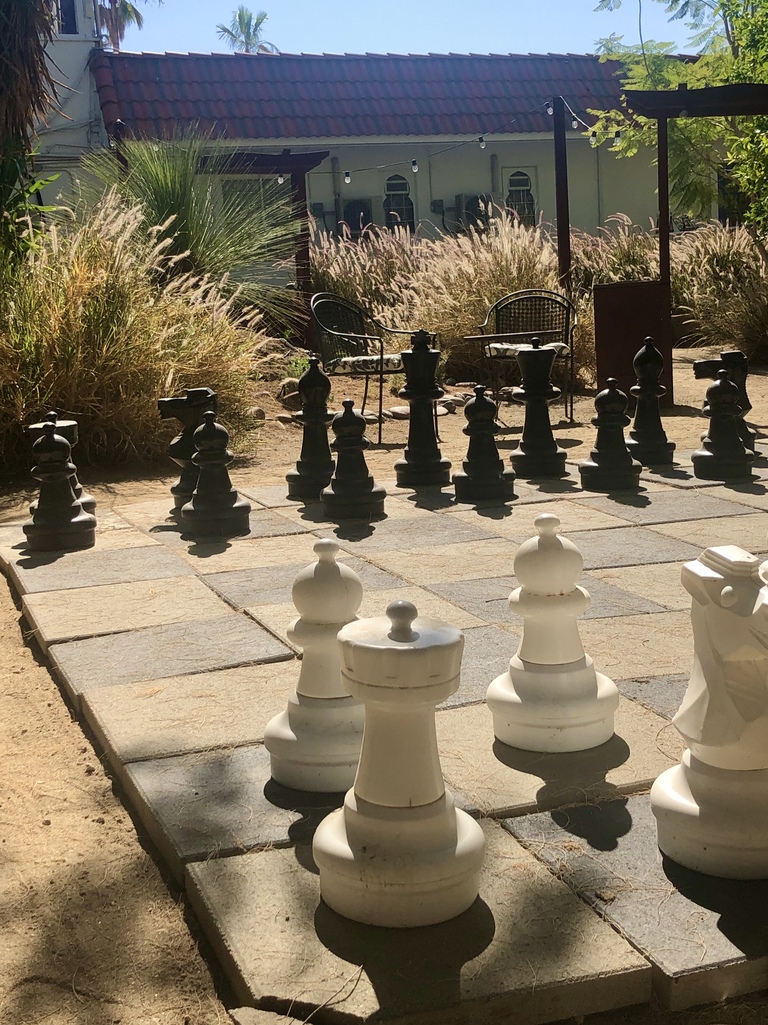 The backyard of the Inn, which was spacious. In addition to this giant chessboard, it included hammocks and two infrared saunas.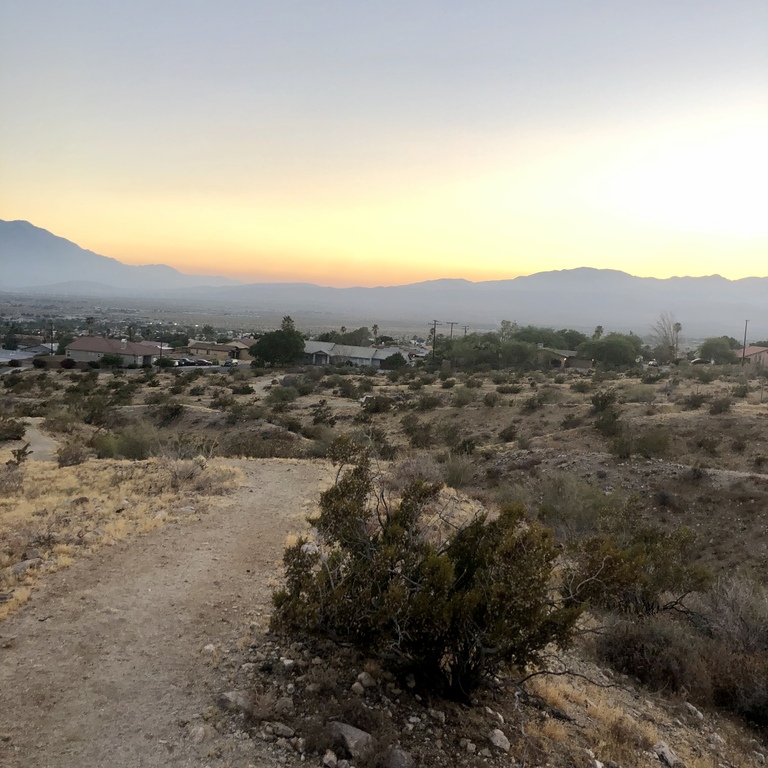 View from a mountain we hiked about a mile away (or less) from the Inn.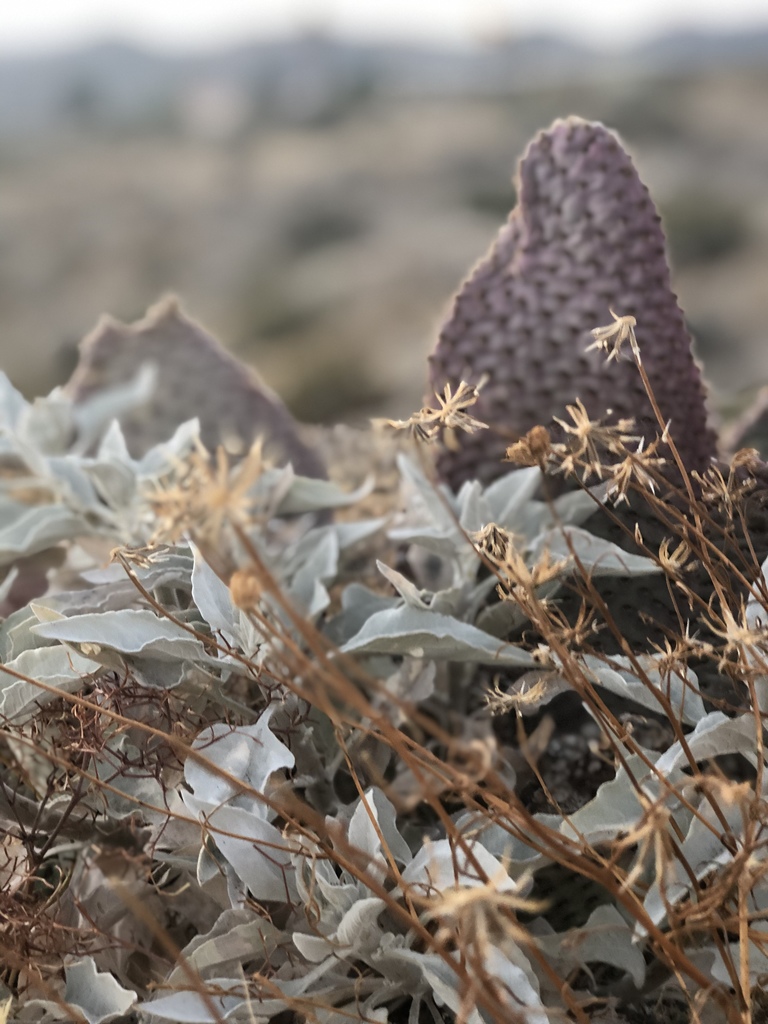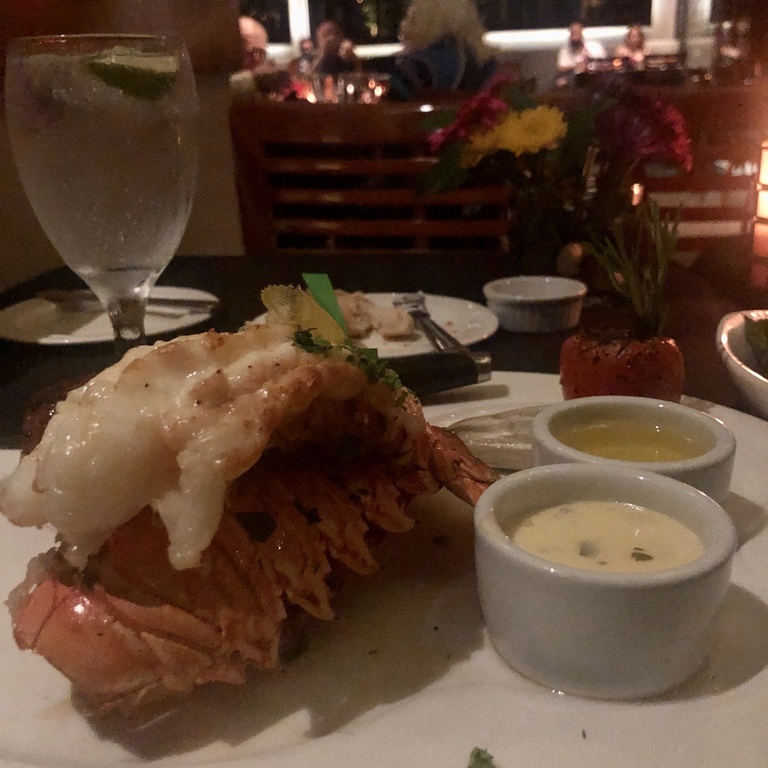 Dinner at Spencer's Restaurant in Palm Springs.
Room
I requested a quiet room, so they gave us the very last room on the end of the hall which was nice. There was a couch outside of our room on the balcony, which none of the other rooms had. Each room has a small table and chairs on the balcony by the door. The bed was not what I was hoping for in terms of comfort, but it could have been worse.  The AC worked great (it is extremely hot in Palm Springs; afterall, it is the desert!). There is a refrigerator and microwave in every room.
The bathroom was fine (there is a shower only, fyi),  except the toilet didn't flush properly! This was my main problem with this hotel.  There are only 13 rooms in the whole place. It is privately owned. They don't seem to care that the toilet didn't work.
Food
The hotel does offer a continental breakfast, which has yogurt, avocado, fruit, beverages, bagels, dried fruit, granola, and more. It's not as lavish as it looks on their website, but since I don't usually eat breakfast, I didn't mind. There are plenty of restaurants in the area. We ended up getting carry out from an amazing Thai restaurant (Thai House), which was close by, the first night. I highly recommend it, the food was amazing!
On our day trip to the Palm Springs Tramway, we ate there. There are several options once you get up to the mountain.
We went to Palm Springs for dinner at Spencer's the second night. Although Spencer's was highly rated, it wasn't amazing.  It was nice, but not incredible. Nothing about it stood out to me.
They have ice water and a special blend of Moroccan mint tea lemonade (which was delicious) available 24 hours a day at the hotel.
Pool
The pool was not big, but it never felt crowded considering there aren't many rooms at the inn. The pool chairs were comfortable, as well as the towels and robes they provide. My favorite thing about the pool is that it contained natural spring water! The hot tub and all water on the property are from the natural springs.
Spa
I found the services offered at their spa to be overpriced, so I did not indulge. However, we did really enjoy using the infrared spa in the backyard (which is complimentary), as well as the hot tub (which is quite spacious) and the pool. Another thing I loved, is that everything is open 24 hours (unlike many hotels).
Tourist Attractions
There are lots of things to do in Palm Springs, but most of the time we spent outside of the hotel was at the Palm Spring Tramway, which includes lots of hiking opportunities once you take the tram up the mountain. This was definitely the highlight of the trip, and as I mentioned above, you can click here to read my blog post about it.
Transportation
I had just finished my last term of classes at La Sierra University in Riverside, CA. So I was already in California this weekend. Michael flew into Ontario airport and we drove to Palm Springs from there.  It was a little over an hour.
Cost
It was very affordable compared to other 4 star hotels in the area!
Overall
What we loved the most was the calm, relaxing Moroccan vibe and decor, and the spa atmosphere. It's in a random area. It's plopped in the middle of a neighborhood, and you would never guess it existed.  Once inside, you're in a very private oasis and it really is perfect for couples. I'm not even sure if children are allowed, so if you have kids, call first to find out. We were able to enjoy our time together and felt like we had a romantic rejuvenating trip.
While I understand why it's got a 4 star rating, not all aspects of it are 4 star quality (like the toilet which didn't flush properly, and the mattress which was subpar). However, for the price, the solitude, and other amenities, it was a good choice.
XOXO,
Holly