HOODIE HEAVEN
Hoodies have been trending for the past couple of seasons, and I was super excited to see them in magazines and on the runways in multiple fabrics and styles. The neutral champagne color, front pocket, and versatile knit on this super cute hoodie from Downeast gave this basic hooded sweater a modern, laid-back appeal.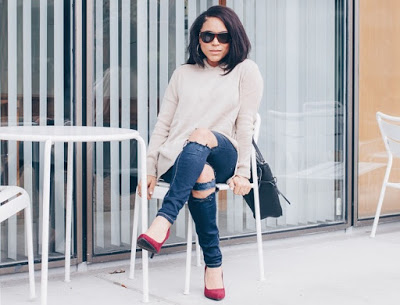 I opted for an urban, chic, feminine look by pairing the hoodie with Merlot, suede pumps as opposed to sneakers or boots. I wanted to dress it up a bit, as I was headed to a small house-party followed by a dinner date.
I've got lots of travel coming up soon; stay tuned for some cute looks for business!
XOXO,
HLJ
DOWNEAST Kangaroo Court Sweater
Skinny Jeans (similar here)
Tommy Hilfiger hobo bag (similar here)
LC Lauren Conrad pumps (similar here & here)
YSL Sunglasses (similar here)
SHOP | Linked items above are SOLD OUT, but there are new links in the widget at the bottom of the post!
Thank you DOWNEAST!