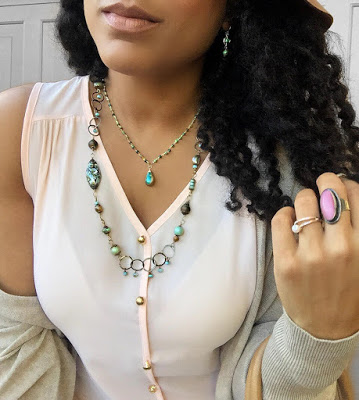 I enjoy layering delicate pieces of jewelry, but I also love big, bold statement jewelry. Anne Vaughan jewelry combines the best of both. I discovered this line at the NY Now Trade Show, where I met owners Anne and Aaron Vaughan. I was inspired and intrigued by the husband-wife duo and their company. Aside from Anne herself being alluringly beautiful, the jewelry is equally enchanting. As a mother and business woman, I was really interested in their story. 
They told me about their humble beginnings, and how the desire to work from home–and put parenting first– led to the creation of Anne Vaughan Jewelry. Each piece is designed and hand-made in their Virginia based studio. They proudly provide work for local women, and are currently celebrating their 10th year in business. 
I love the idea of being able to build your collection, as each piece is designed with layering in mind. 
I wear neutral, solid colors 95% of the time, which really allows these unique pieces to stand out and pull my look together. 
(Use code: HOLLYRC to save 20% off the Rustic Creek line)
(Use code: HOLLYCIRC to save 20% off the Circle of the Sun line)
(Use code: HOLLYCIRC to save 20% off the Circle of the Sun line)