Fun and Flirty Floral Leggings for Date Night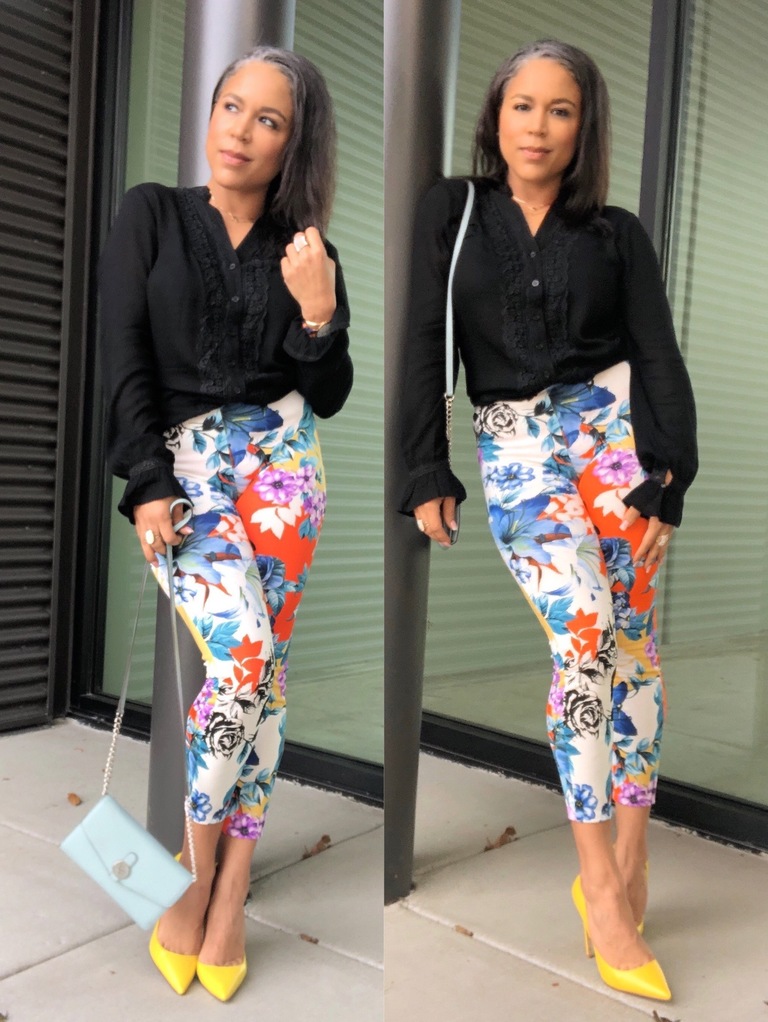 Trendy Boutique Blouse & Floral Leggings |FSJ Yellow Pumps | Shop the Post (Get the look)
Happy Holidays Friends,
If you've been following me for a while, you know that solids and neutrals have always been my go-to, but lately I've been enjoying mixing it up with bright colors, fun, flirty, floral prints and even LEGGINGS!
Here's another date-night look that is not something I would ordinarily wear, but I've been inspired by a lot of the fun and flashy outfits created by KingCartier (a stylist to NBA and NFL wives). No, this is not an ad or  endorsement, we don't know each other, I just like his work. I've enjoyed getting out of my comfort zone and wearing prints and colors lately! Have you considered trying any new fashion trends lately?
Christmas With College Kids
How is your holiday season going? Now that my twins aren't kids anymore, mine has been pretty simple. For the past couple of years, I've asked them to pick out what they want (clothes) online, save them to a wishlist, and send me the list.  I do take the time to wrap them all, however! Luckily Michael helps me do all the wrapping. My tree isn't even up yet, but I will have them put it up when my son Nile gets home from school on Dec. 20th, unless I can get Jordan to do it before then (unlikely, haha!).  I asked them to do it over Thanksgiving break, but they did not (shocking!). Do you do your Christmas shopping online or in-store?
Gray Fox
I'm still getting used to my gray hair. Does it surprise you that all of the compliments I get on it are from MEN? I find that interesting.  I think we as women don't always understand what men find attractive.  Any thoughts on this? Drop me a comment!
XOXO,
HLJ