Space Jam: Innocent Similarities or Intentional Copying?
Happy Monday,
Like many people, the movie Space Jam has special significance for me. Yet, I am unlike the millennials for whom it's a generational favorite, bordering on cult obsession. I have negative feelings about the movie. If you've had a chance to look at my "big news" post, you know why. Either way, allow me to give you an overview of the film.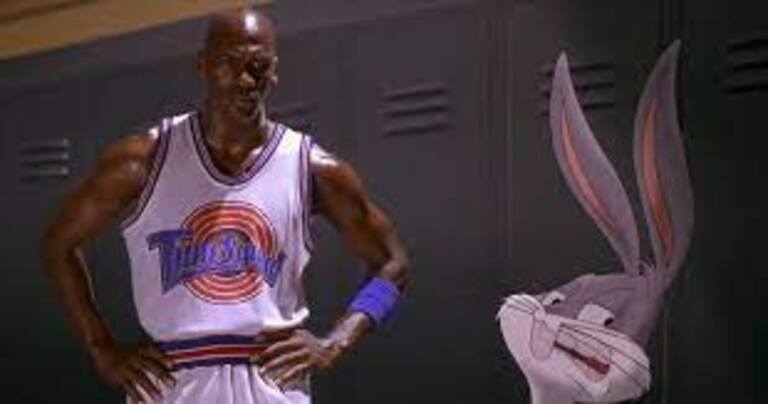 Space Jam: Innocent Similarities or Intentional Copying?
For those who are unfamiliar or could use a refresher, the movie Space Jam was released in November of 1996. For reference, I was a senior in high school.
It stars Michael Jordan and Bugs Bunny. According to Fandom, "Space Jam is a 1996 sports comedy film starring Michael Jordan and the Looney Tunes characters. In this brief introduction, the film is described as "a fictional account of Michael's initial retirement from and return to the NBA, this time with him being inspired by Bugs Bunny and friends. The film also marked the debut appearance of Lola Bunny. Space Jam was a box office success, opening at #1 in the U.S., and grossing over $230 million worldwide against an $80 million budget."
If you've seen the movie, you would likely agree that the plot is rather strange.
The idea for a movie with MJ and Bugs was reportedly inspired by the success of the Hare Jordan commercial ad campaign. But Michael Jordan was not a good actor. So, it was essential that there was a storyline engaging enough to entertain a general audience for 90 minutes.
Most of the movie, and the action, follows a unique tale of good vs evil played out through the game of basketball.
This curious plotline and many other elements of the movie, in my view, were lifted from my father's 1984 short story, "The Devil and Doodazzle Dakins."
In fact, many movie critics, fans, and journalists have expressed confusion or outright criticism of the story line. In my view, this is because elements of my father's story were copied into the film without considering their role in the story—or whether those elements fit within the film's context.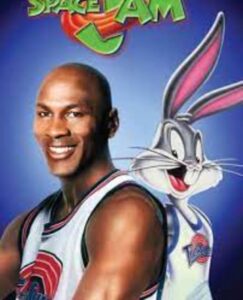 Below, I have included a list of linked articles and quotes that discuss oddities and controversy surrounding the script. Refer back to the complaint to connect the dots.
A lot of information can be found on the original Space Jam website, which is amazingly still live and functional.
"Reitman commissioned a script." He commissioned Harris and Weingrod, but they are not named in this segment.
The relationship between Ivan Reitman and Harris and Weingrod is well documented if you do some Google searching. Pay attention to the timeline of their work together.
Twenty years later, 'Space Jam' is the movie we never knew we needed
This article explains how it came to be that four screenwriters were involved. It includes  peculiarities surrounding the script.
"By the mid-'90s, Jordan had become an international icon. Together with Ken Ross (now a CBS executive), Falk pitched a Jordan movie to the major studios.

The idea wasn't fully formed — the script and exact story would be developed later

."
"He faced some skeptics who didn't think it could work. Lucy Fisher, Warner Bros. executive vice president of production, said, "They didn't really want to mess around with Bugs unless there was some good reason to, and it just seemed too hard." But she believed in it. "Dan showed me the commercial, and then as soon as I saw it, I said, 'I see the whole movie. I don't know what the story is, but the dynamics are fantastic.' "
They hired Joe Pytka, who directed the "Hare Jordan" ads and had a good rapport with Jordan. Ivan Reitman joined as producer, and his team came up with the concept of Jordan helping the Looney Tunes in a basketball game against the Monstars, Fisher said."
The Oral History of 'Space Jam': Part 1 – Launching the Movie
Interviewees talk about how much drama and confusion was occurring with production. They note that there were many staff changes, and that the project almost didn't happen. Much of this conflict seems to be surrounding issues with the script and storyline.
This article also provides interesting commentary on the unusual instructions the animators and illustrators were given to draw the villains.
Tony Cervone: "The Monstars were interesting characters. There was a lot of struggle about what they should look like and in the beginning, they were a little soft, a bit too cartoony and cute, as if they had walked out of a Disney movie. There's one drawing I did and the shot is in the movie—it's the shot where they're all looking down at Bugs and the moon is behind them. But it was a really crude drawing. Ashanti Miller colored it—and that was it! It was like they came out of Marvel comics, not a normal animated movie."
Bruce Woodside: "The challenge was to come up with content that had an edgier Warners sensibility, whatever that might be, to distinguish us from and actively competing with Disney Feature for a slice of the animation pie—or more specifically, as I recall from a speech given to us by one of Warners' CEOs, to 'fill the shelves' of Warners company stores with tie-in merchandise."

"The crazy thing about Space Jam is that I think

they had the release date but the script wasn't quite finished

– although they had the concept for it – and they had to just get going."
"Every day the script was being re-written before the shoot and it was being re-written during the shoot."
'Space Jam': The story behind Michael Jordan's improbable victory
"The first step was reworking the script and sprinkling in his own flavor, including an extended version of Jordan's return to Earth, in which he would hit a momentous home run reminiscent of Robert Redford's in The Natural.

While the scene didn't make the final cut, there was a much bigger "what if" when it came to the script

."
"Spike Lee is a friend of mine and he approached me to do a polish on the script," says Pytka. "I thought that Spike would have added some stuff that would have been cooler, but Warner Bros. didn't want to deal with him because of their issues with him when they did Malcolm X together."
Lola Bunny | Space Jam Wiki | Fandom
This article mentions that the sexualization and surrounding controversy of Lola Bunny's depiction was a first.  Honey Bunny (who preceded her) was not at all sexual.
Interview with Timothy Harris in 2004.  He mentions Weingrod, their partnership together, and how they decided to go their separate ways.  It seems that Space Jam was their last film, and they both sort of disappeared from the screenwriting scene. Harris lived in England at the time of this interview.

I find it odd that there appears to be virtually no record of Harris and Weingrod ever talking to the press about Space Jam. Particularly given its success.
'Space Jam' Had A Hidden Message Most Fans Missed
When asked about certain lines in the script, Harris and Weingrod claim they don't remember.
"

Co-writes Timothy Harris and Herschel Weingrod claim they don't remember

. After all, they were brought on to do a re-write of the script so the lines could have been added by the original writers, Steve Rudnick and Leo Benvenuti."
15 Things You Didn't Know About Space Jam
"The first three drafts of Space Jam's screenplay were done by the writing team of Steve Rudnick and Leo Benvenuti, whose 1994 flick The Santa Clause became a massive hit for Disney. When they had to leave the project due to other commitments, another writing team was brought in to pen an additional draft. Tim Harris and Herschel Weingrod were experienced gag writers, having crafted Trading Places, Kindergarten Cop, and

Twins

." 
"As you might expect, Jones had some feelings about Space Jam. What you might not expect is that they weren't all that positive. Interviewed by animation blogger Trevor Thompson in 2008, he dubbed the movie "terrible." Of particular objection was the (very) slightly edgier humor. Jones insisted that Porky Pig, for instance, would never utter a line like, "I think I wet myself." The sultry Lola Bunny didn't find much favor, either. He dismissed her as substance-free. The idea that Bugs would need to enlist the help of other Looney Tunes characters — or a famous basketball star, for that matter — also rubbed him the wrong way."
Chat soon,
HLJ
PS. Special thanks to Chen|Leftwich Law Firm.
*
All photos included in this post are for educational purposes only. Except for the photo of me as a baby with my Dad.  That's for cute purposes only.