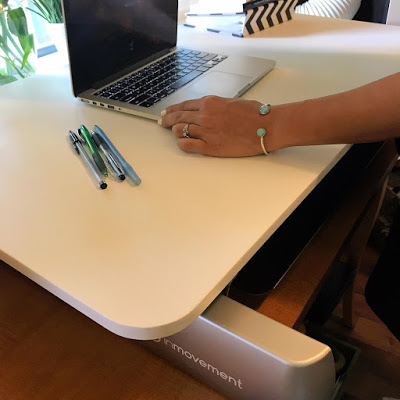 On an endless journey to stay fit and be at my best, I was so honored and blessed to have the opportunity to use a standing desk for my home.  I've been without a desk for the past couple of years, and have used my dining room table or a lap desk in my bed. I am convinced that this has contributed to some weight-gain, and overall "blah" feeling. As a blogger and outside sales rep, I often work from home, and spend many hours on the computer. It was important for me to continue to make the right decisions for my mind/body health, so I couldn't have been happier to connect with inmovement and review their desk. 
First, I love the modern look of it. I was also happy to be able to select from three colors, and the white one is perfect for me.  One of the best features of the inmovement desk is that it is easily adjustable. You just press the levers on either side and it moves up and down smoothly, with virtually no effort. 

The most EXCITING benefit of using a standing desk are the health and wellness benefits! According to an article on livestrong.com, "The simple act of standing instead of sitting may help you burn 20 to 50 more calories per hour." Upon using the desk for the first time, I immediately noticed a difference in my posture.  You are basically forced to stand up straight.  I also feel my leg muscles working just by standing up. I am looking forward to "making the standing adjustment" for a minimum of four hours each day and burning an extra 80-200 calories per day, which can equal 8 to 20 lbs in a year! 

I highly recommend this desk, and suggest looking into standing desks in general.  If you don't work from home, consider asking your employer to make the investment. Having healthy employees can reduce cost over time! Please use code BLOG30 to receive a 30% discount.




In Health & Happiness,

HLJ