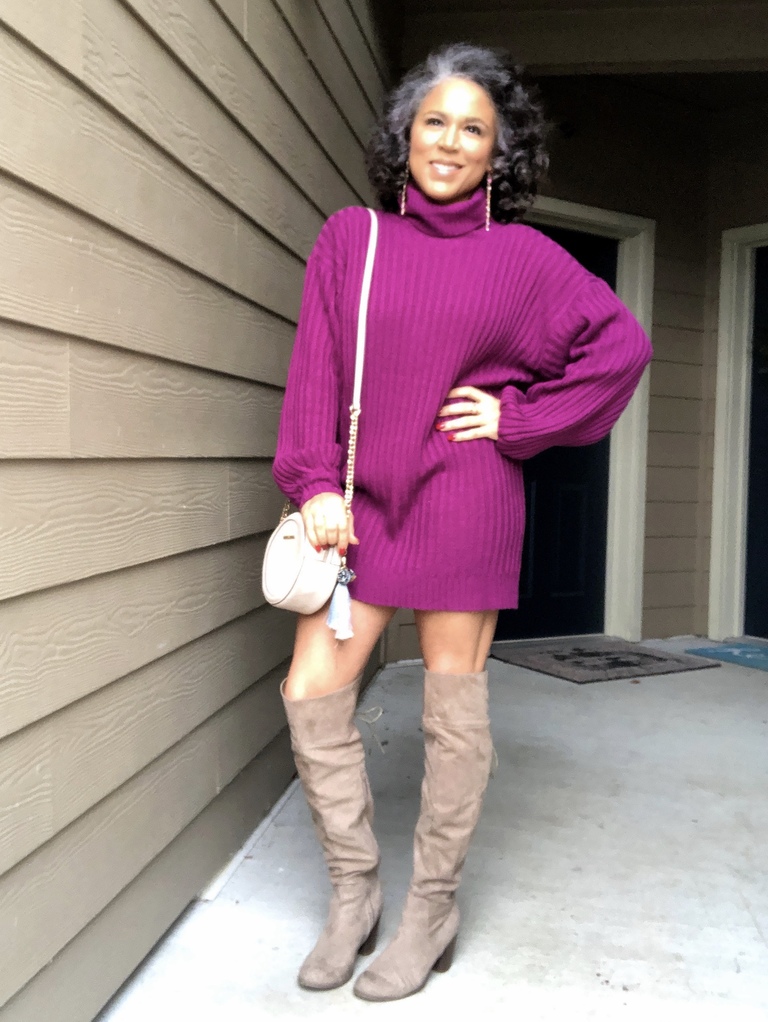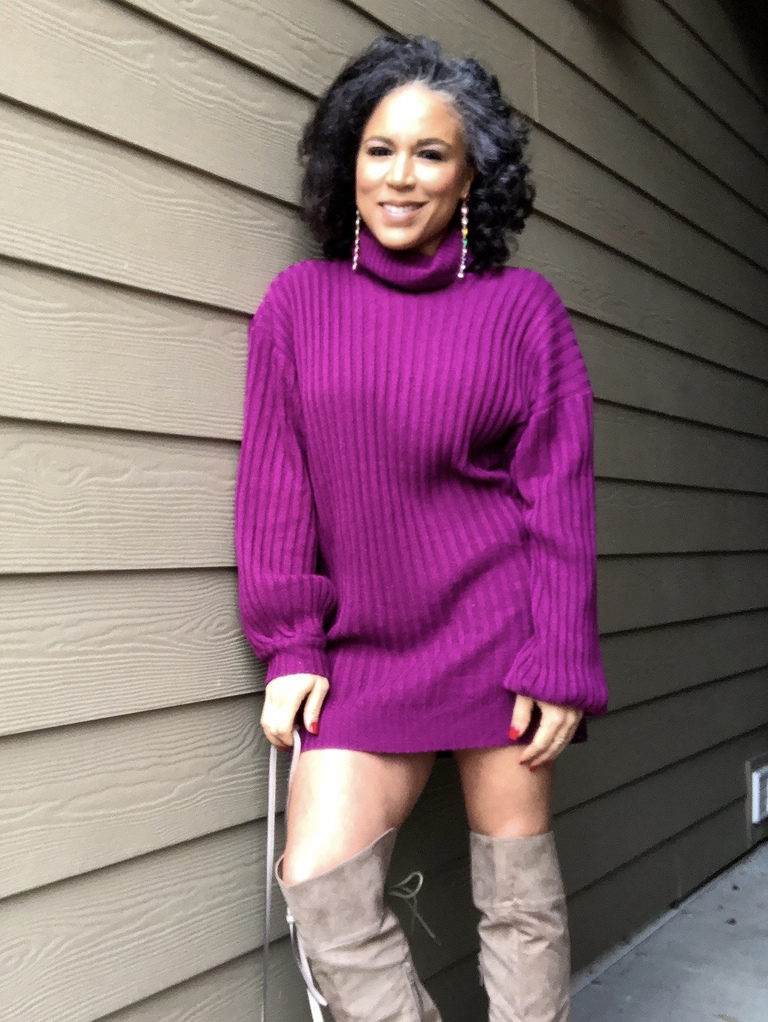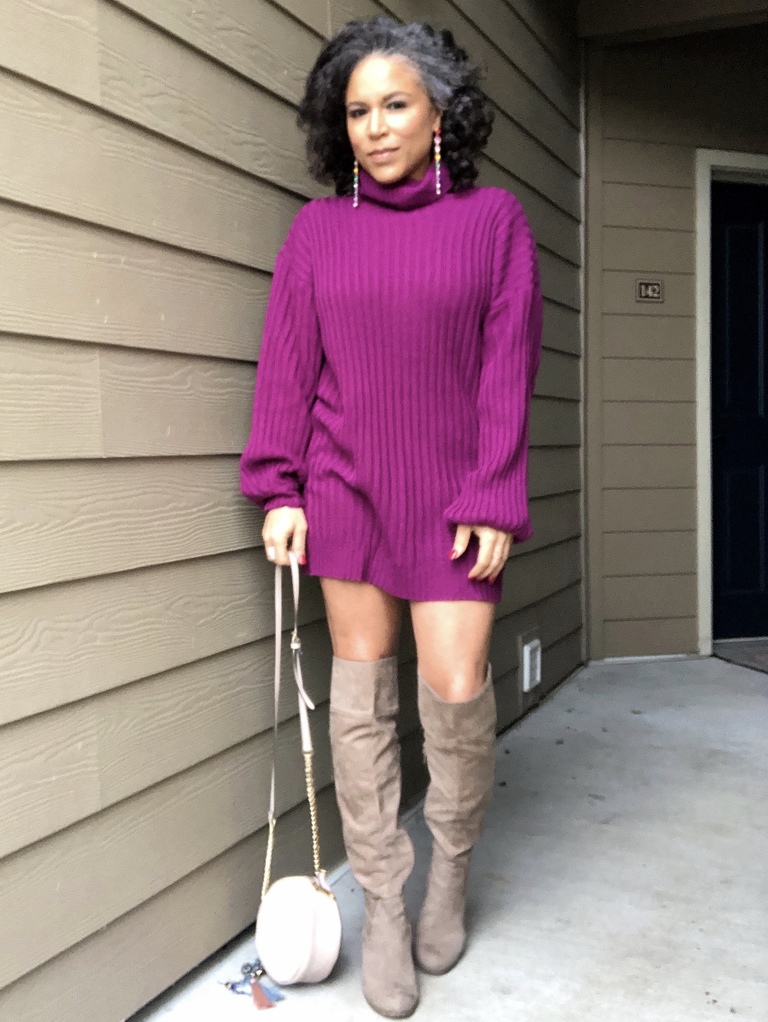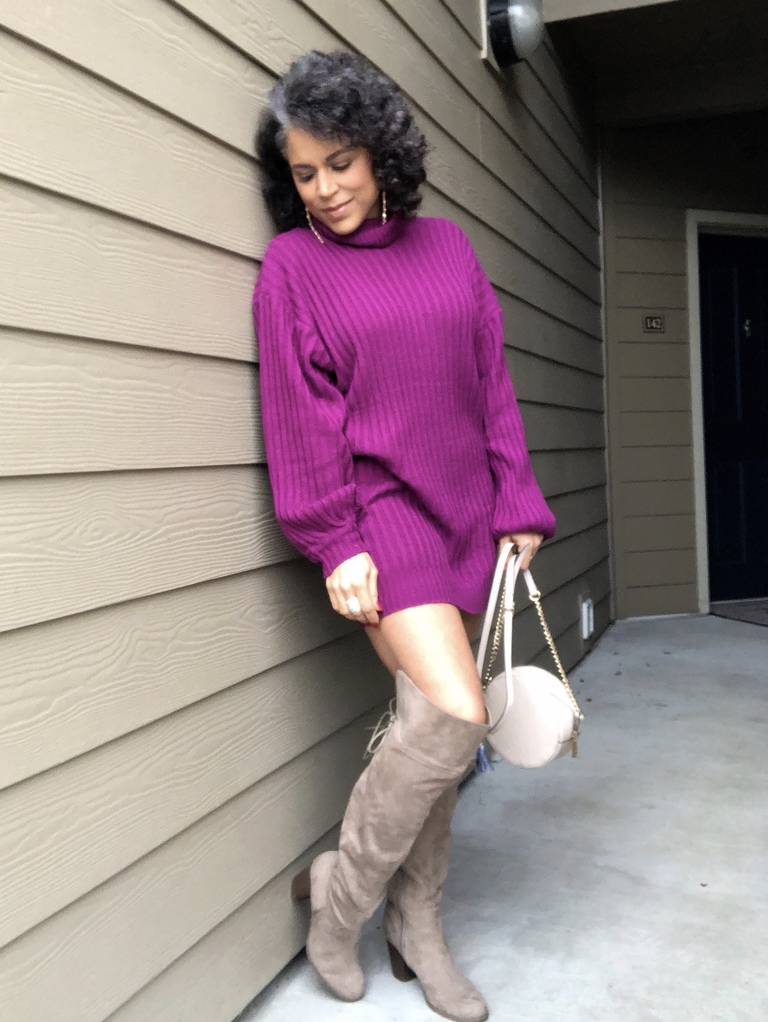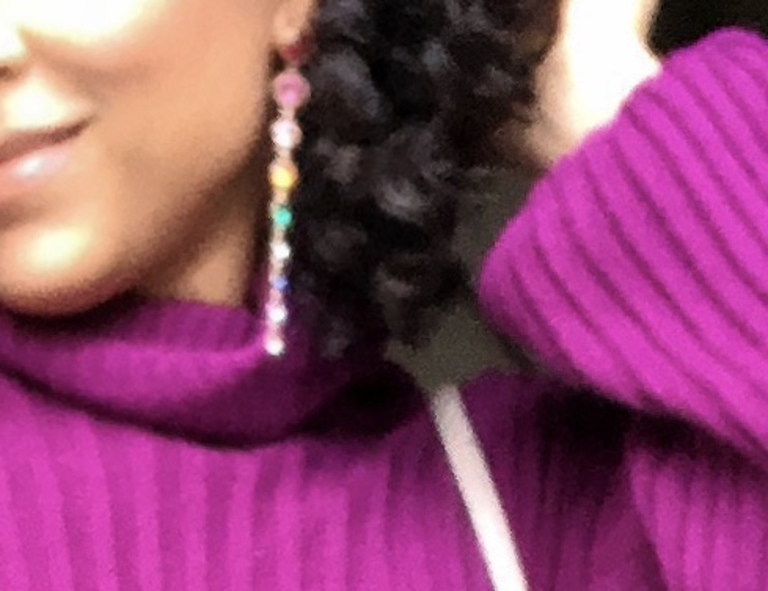 Sorry this is blurry, but I wanted to show the color of the earrings.  I only have one more set of photos to post before I start sharing photos from my new phone! Yay.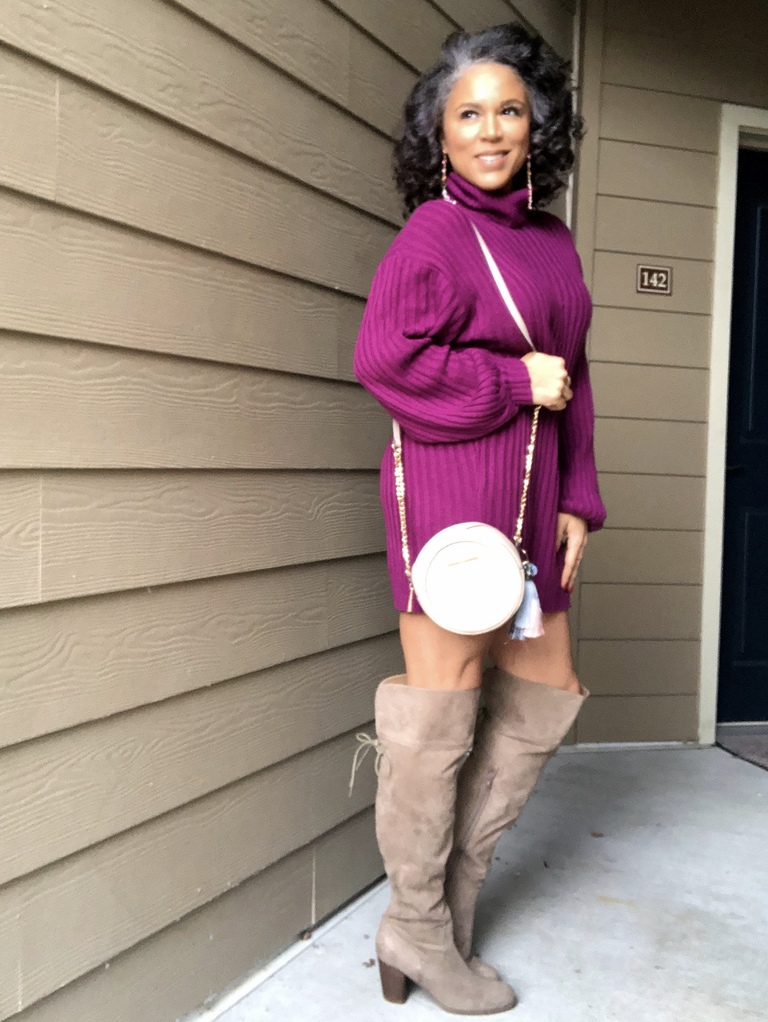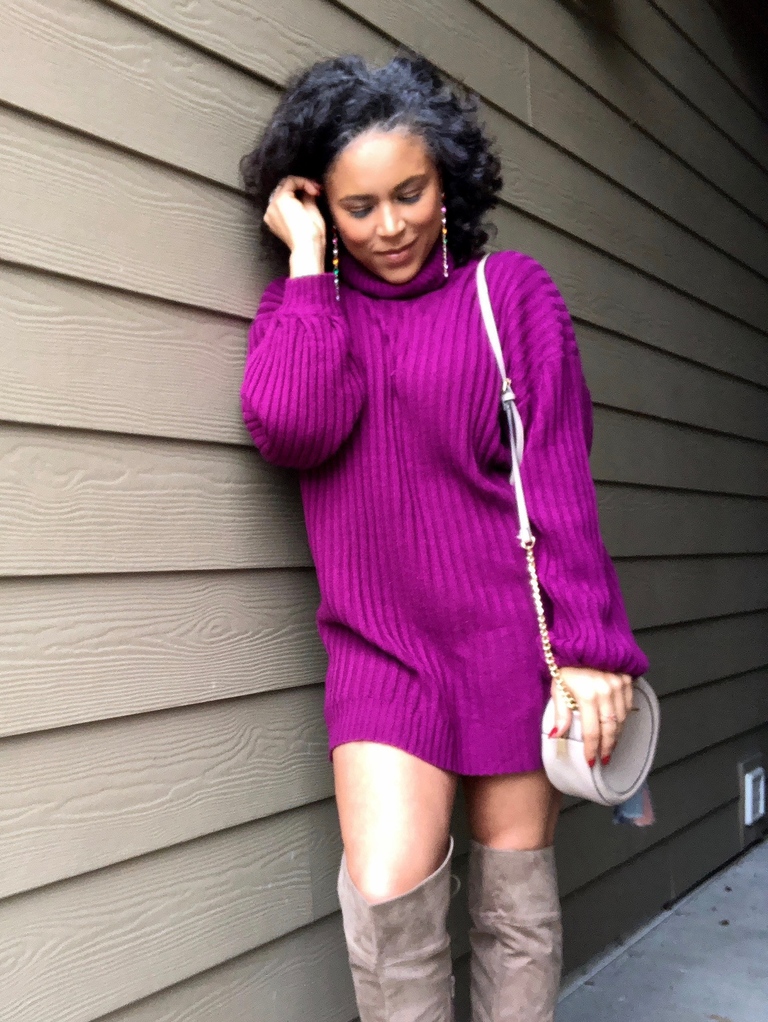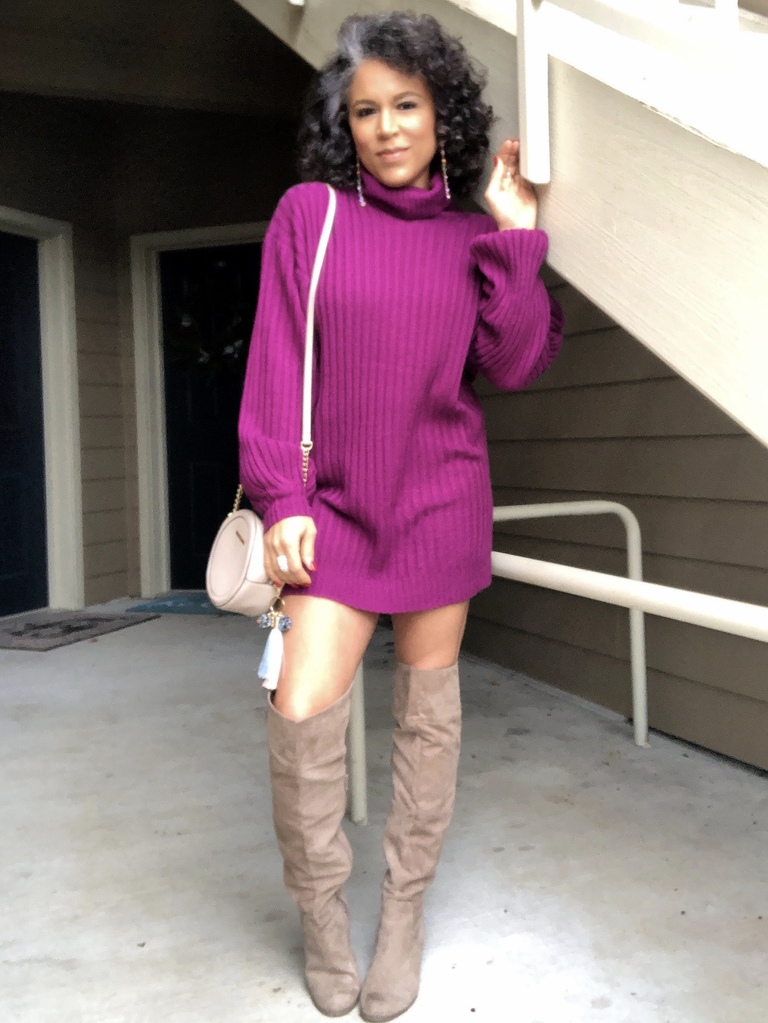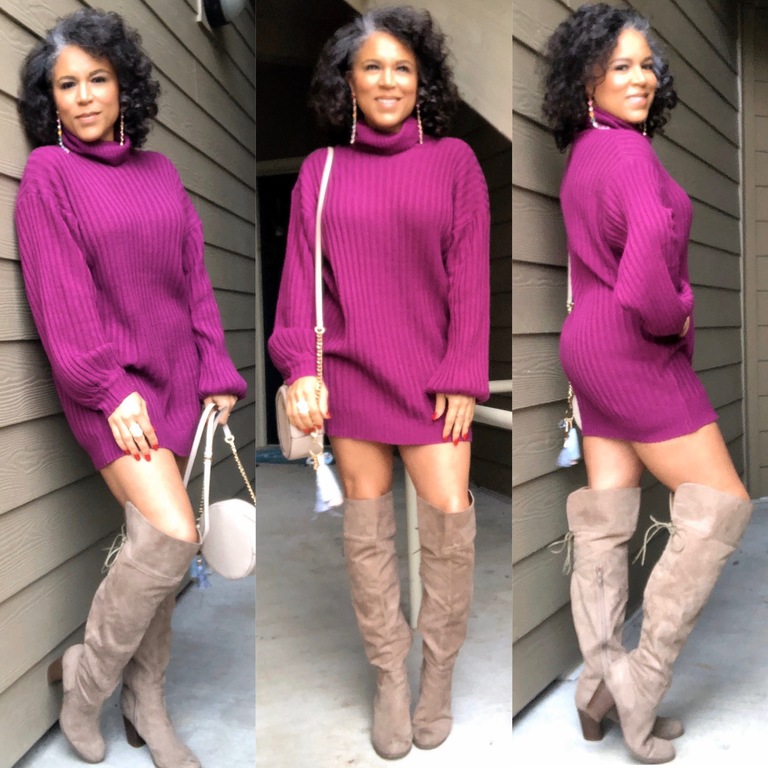 Hey Friends,
I totally love this raspberry purple sweater dress! It's the perfect length for me; I am only 5'4 so I prefer things on the shorter side. The color is gorgeous, and the fabric isn't itchy.  It's also super affordable, for only $35 bucks! It's perfect with over-the-knee Boots, but would also be cute with tights and booties.  A hat or fur vest would also be very chic! I also love the crystal rainbow dangle earrings with it.  I linked some similar earring options. You can shop the look at the bottom of this post.
This was one of my daughter's Christmas gifts (thanks Jordan!).  I let the twins pick out their own gifts, so it's nice when I can borrow things from her that I wouldn't normally choose.  She has great taste, but it's different from mine, which is actually to my benefit, haha! I try not to dip into her closet very often however, because I don't think she particularly likes it, hehe.
My Birthday
What have you been up to for the first two weeks of January? I just celebrated my 42nd birthday with a trip to an exhibit by one of my favorite artists at the Portland Art Museum. This artist has special significance for me, so I was so happy my son Nile was able to join me. Jordan was visiting her dad in California, or else I would've taken her too. I'm looking forward to sharing some photos of the exhibit with you in a blog post and on Instagram soon.
The Twins
My daughter went back to school yesterday, and she's extremely happy at University of Portland.  While she was home, I helped her prepare for her audition for the next play on campus, which is by Shakespeare (one of my specialties!).
My son is still home.  He is actually transferring (by choice) because University of Rochester was not a good fit for him. It's been a challenging experience, but it will make him stronger in the end. Once we get him all settled, I will update you on where he is and how it's going. We have plans in place, but I don't like to announce things until they officially happen. 🙂 Many of you ask about my kids all the time (thanks for caring), so I try to keep you up-to-date with their lives!
New Content on Instagram
Lately, I've been trying to add videos to my stories on Instagram, and I'm slowly starting to get back into doing brand collaborations again as well.  If you would like to hear me talk about anything in particular, please let me know! Follow me on Instagram and check out my highlights and stories for all the latest news.
I love getting comments here on my blog, and on my Instagram photos.  I also read all of my direct messages, and try to respond to all of them (sometimes it may take me several days, but I promise I will eventually get to it).  Don't be too shy to reach out with a question, request, or comment!
XO,
HLJ