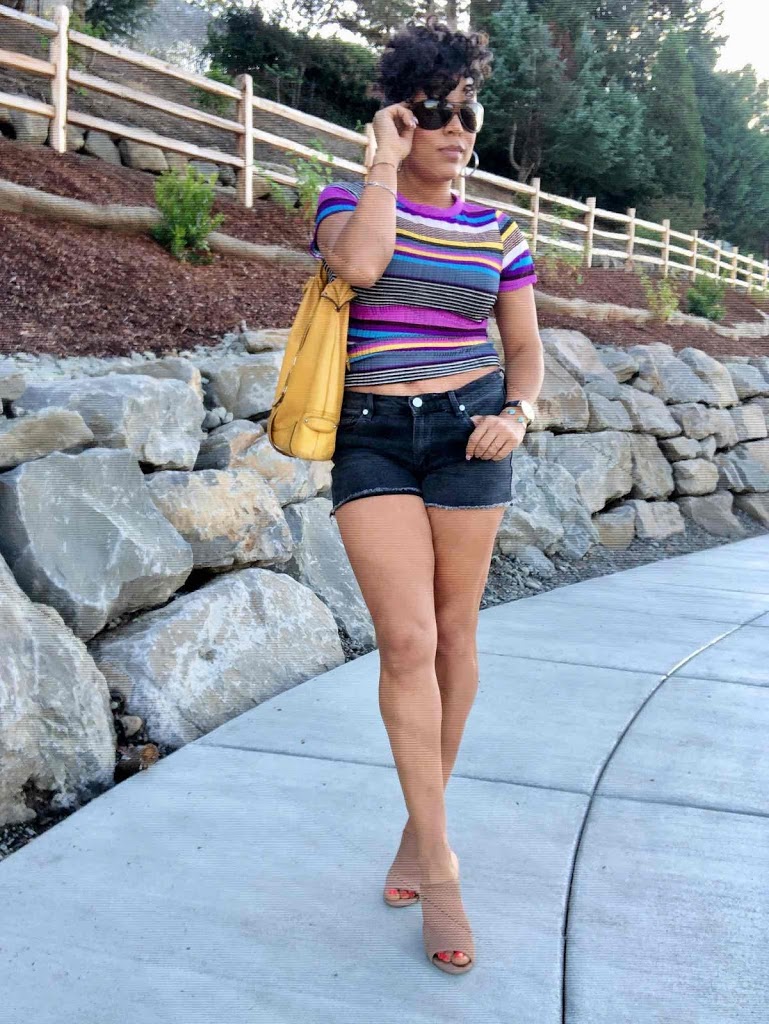 (Nope, the edges of my hairline aren't receding, they are just GRAY, haha!)
I took these pics a couple of weeks ago when the weather was in the 70's.  It's still pretty nice here in Vancouver, WA and I'm trying to spend time outside every day before it gets chilly and starts raining nonstop! 
Slowly but surely, I am getting back in the habit of posting regularly.  I can't believe I took a YEAR off from blogging and posting.  But, I needed the break and now I'm just happy to have a little more time to be creative.

I love the retro vibe of this top, and the fall colors.  It's from Trendy Boutique. Other cute striped tee options for fall are linked: #1, #2, #3.   The mules are from Aldo, the shorts are Blank NYC and the bag is Etienne Aigner (several years old). The watch is Daniel Wellington and bracelet is from Dear Isabella (both gifts–that I LOVE!–from collabs I did a couple years ago). 

Today marks Scorpio season, and it's a time for letting go, shedding anything stagnant that's holding you back or weighing you down, and starting anew. I have a lot of positive but challenging changes happening in my life (personally and professionally) and I'm welcoming them! How about you?


"In order to rise again from the ashes like a powerful phoenix, you need to experience a type of death, even if it's not in the literal sense. Whether you're struggling with a toxic relationship you can't seem to let go of, or experiencing something emotionally challenging at a soul level, consider this your opportunity to shed skin. Scorpio season is always climatic and life-changing, but that doesn't mean you should fear its power. Instead, take advantage of this energy and learn how to trust the process. Surrender and let your higher-self take the wheel." – full article on Elitedaily.com
     
?,

HLJ