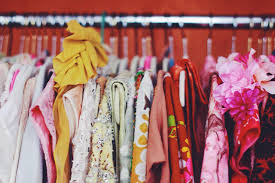 Lots of my friends and folks on social media have been asking me about Poshmark. It's sort of like an Ebay-Instagram hybrid. It's organized similarly to Instagram in design and functionality, with followers, shares, likes and columns. It's a marketplace for new and gently worn fashion for women, and buyers can make offers to ensure they get the lowest price. It's awesome If you are social media savvy–or heaven forbid, a social junkie–AND a fashionista? Oh honey, Poshmark is for you.


I LOVE Poshmark, the #1 app to buy and sell fashion, and know you will love it too! Make money and shop over 5,000 brands at up to 70% off. It's fun and easy – I promise!
Install free app now! Sign up with code JVJJO to get $5 off your first order. –HLJ
Do you have a closet full of clothes that you love, but are ready to upgrade? Poshmark even has a trading system if you are not interested in selling or buying.
If you have always wanted to be a business owner with an online boutique, Poshmark gives you ALL of these tools with very little investment.

As a style blogger and an avid Ebay for 14 years (since my twins were two! Eee-gads), I was SO excited to discover Poshmark, because it takes the hassle out of many aspects of a typical transaction on Ebay.
Poshmark is not only financially rewarding, but fuels my creativity. I personally love styling, it's my hobby. So, it makes me happy to share my selections with others!
Poshmark is all about the #GirlBoss movement, and has a wealth of resources and a supportive community to help you in your journey towards success and financial independence.

Already have another business platform or an active following on social media? You'd be surprised at how easy it is to bridge the two into a successful enterprise. I've made hundreds of dollars on Poshmark, and it's super easy and quick. See for yourself! Click the photo below to check out my sales.


Even if you are not interested in the business-side of Poshmark, if you love to shop, and are a bargain hunter, you should really try it. You won't be disappointed. Shopping in a pro-woman environment is empowering and fun!